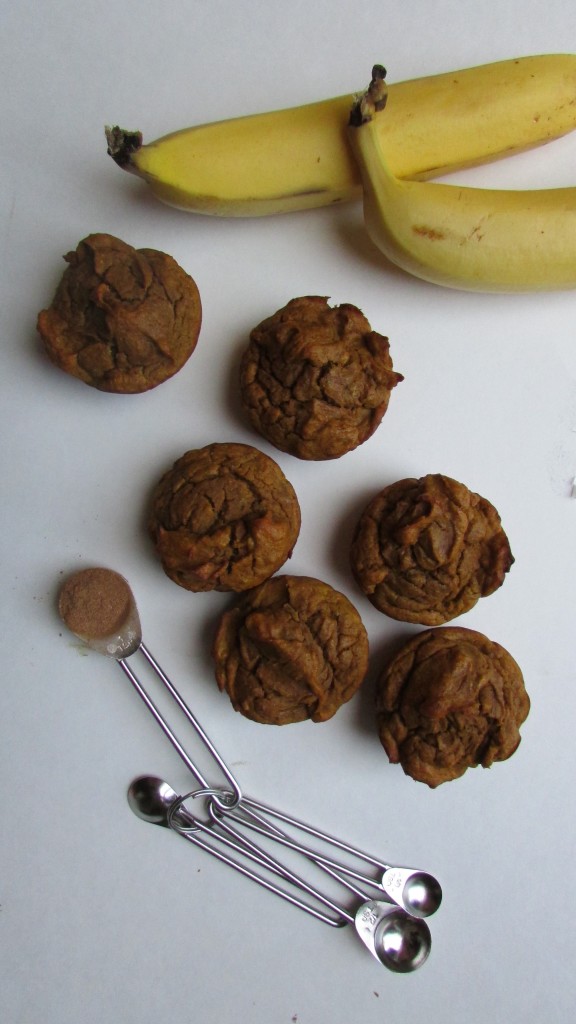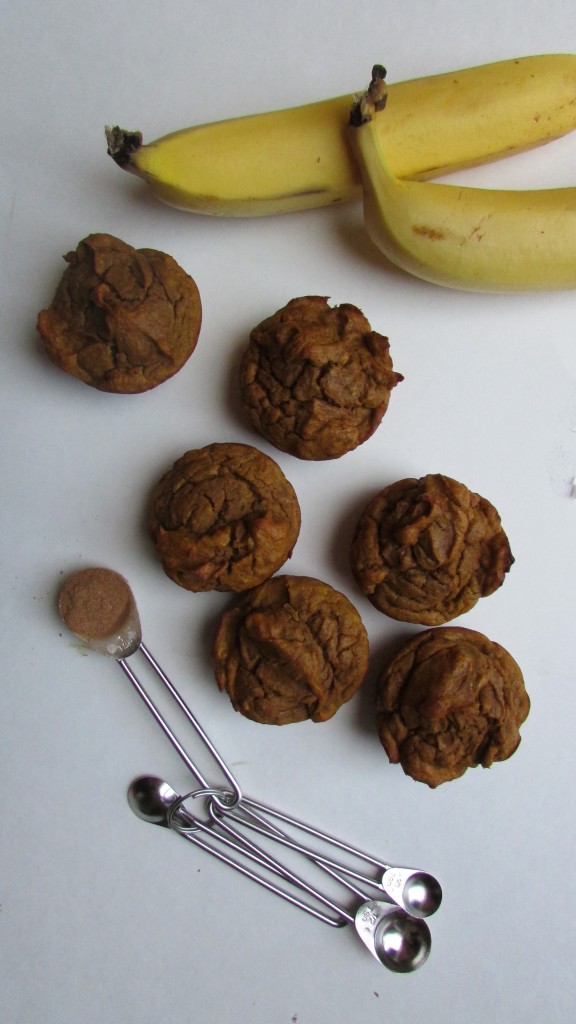 Well fall has finally rolled into town. Temps down in the 40's at night, high 60's & low 70's during the day. I am in the mood to bake again. 90 degree temps until the 3rd week in September + being back at school +  marathon training = not really wanting to be in the kitchen (and no time). So sorry for the lack of blog posts. Now that things have settled into a routine, and marathon training is tapering, I'm hoping to get back into the blogging routine. I miss it, and I hope you've missed me too! Summer was hectic (lots of traveling) so I decided to take a little break from Veggie Staples, although I feel like I need a vacation from all of my vacation traveling! Do you ever feel like that sometimes?
Well along with fall, pumpkin season is also back in full swing (and anyone that knows me knows I love my pumpkin). I had some mushy bananas in the bowl on the counter so I decided to whip up some pumpkin banana muffins - Zoey was into them! I love that she eats 'regular' food now, and I can make food or other treats like these muffins that she can eat! I made these for a baby shower - also a big hit! I know you will love them too!

Easy Gluten Free Banana Pumpkin Muffins
Prep time:
Cook time:
Total time:
Ingredients
1 very ripe banana
¾ cup pureed pumpkin
¾ cup almond flour
2 eggs
2-3 tablespoons pumpkin pie spice (depending on how big of a pumpkin fanatic you are!!)
1 tablespoon coconut oil, melted
3 teaspoons baking powder
2 teaspoons cinnamon
optional: 2-4 tablespoons stevia, or enjoy life chocolate chips!
Instructions
Preheat the oven to 400 degrees
Mix all ingredients together in a whole (that easy!!)
Grease or line muffin tin
Fill cups (this batch will make ⅞ muffins)
Bake in the oven for 20-25 minutes or until a toothpick comes out clean