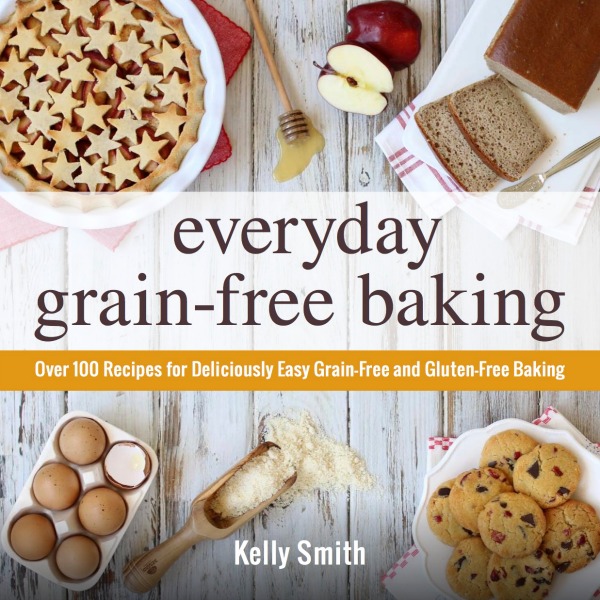 Hello, dear readers! I have another awesome giveaway for you today! My sweet friend Kelly just came out with a new cookbook called "Everyday Grain Free Baking". It is just fabulous. Last weekend while we were snowed in I made the cinnamon bread AND the pumpkin muffins and they were both just divine. I know you will love this book (head on over to amazon and check it out). Wonderful recipes from muffins to bread to cupcakes!
I'm sharing this recipe with you for Kelly's infamous pancake muffins. They are so good and perfect for on the go breakfasts! Enter below the recipe to win a copy of "Everyday Grain Free Baking" by Kelly Smith! Good luck! (and buy the book if you don't win)!
Grab N Go Pancake Muffins
Prep time:
Cook time:
Total time:
Ingredients
⅓ cup plain whole milk or coconut milk yogurt
2 tablespoons unsalted butter (or coconut oil), melted
1 tablespoon honey (or maple syrup)
1 teaspoon pure vanilla extract
¼ teaspoon apple cider vinegar
1¾ cups blanched almond flour
½ teaspoon baking soda
¼ teaspoon sea salt
3 large eggs
¼ cup diced strawberries
¼ cup whole blueberries
Instructions
Preheat oven to 350°F. Grease 8 muffin cups in a 12-cup muffin tin with coconut oil. Set aside.
Place all of the liquid ingredients except the eggs into a blender or food processor. Then place all of the dry ingredients on top. Cover and blend on low 10–15 seconds just until well combined. (Batter will be thick.)
Add the eggs and blend on low about 15–20 seconds, then increase to high and blend 20–30 seconds, just until eggs are incorporated into the batter. (Do not overmix or muffins will not be tender.)
Transfer the muffin batter to a bowl and fold in the berries. Evenly divide the pancake muffin batter among the 8 lined muffin cups.
Bake for 15–18 minutes, until slightly golden brown on top and a toothpick inserted into center comes out clean. Remove from oven and allow muffins to cool 2–3 minutes in the tin. Then run a knife around the edges of each cup and invert the pan over a sheet of parchment to remove.