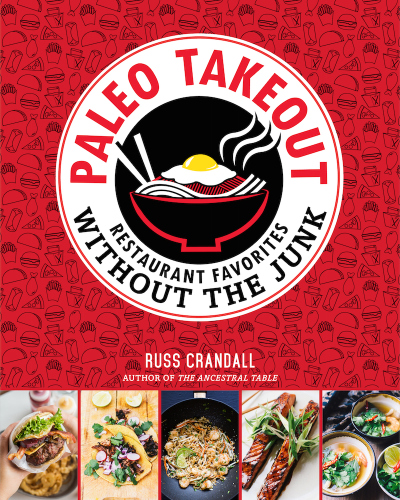 Book review season is here! Be on the lookout for 2 more this week by some of my very talented friends, with whom I've had the privilege to do book reviews for!
First up is Russ over at The Domestic Man. His story is pretty incredible, and he's used food to heal his mind and body. Who doesn't love a story like that? And now he's an amazing chef, with not one but two books out, and this one is going to blow your mind. Really. And if you head over to follow both me and Russ on Instagram, I'm giving away a copy until Wednesday, June 24th!
We've been lucky enough to try multiple recipes in the book, the hot and sour soup (amazing), the egg drop soup (recipe shared below), and my personal favorite, the blackened fish tacos. This is a book worth having, you will make these recipes again & again & again. We have at least 2 more planned for this week, including the Chipotle Burrito Bowls!
Paleo Takeout Review
Prep time:
Cook time:
Total time:
Ingredients
slurry:
3 tbsp arrowroot starch
2 tbsp cold water
soup:
3 cups vegetable or chicken broth
1 cup water
¼ tsp sea salt
¼ tsp white pepper
¼ tsp ground ginger
2 large eggs plus one large egg yolk, beaten
1 green onion, chopped for garnish, optional
Instructions
Stir together the arrowroot starch and cold water to create a slurry, then set aside
In a stock pot, combine the broth, water, salt, pepper and ginger and bring to a boil over high heat. Once soup is boiling, stir in half of the arrowroot starch slurry. Continue to stir until thickened, about 1 minute, adding the rest of the slurry if needed. Taste the soup and add more seasonings if needed.
Reduce the heat to low and slowly pour the eggs through a fork in the soup. Once the eggs have been added, whisk gently with a fork to prevent clumping, then allow to cook through, 1 more minute.
Serve immediately, garnish with green onion if desired