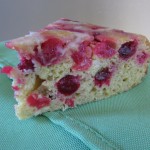 Thanksgiving is only a few weeks away, can you believe it? Even though I've always leaned toward the vegetarian/vegan side, I've never had a gluten free and dairy free Thanksgiving. Needless to say, I've been brainstorming some ideas and testing recipes. I've never been a fan of cranberry sauce, but I love cranberry orange pastries. It is one of my favorite flavor combinations! Do you have a favorite fall duo?
Did you also know how great cranberries are? Cranberries help protect our heart and liver, can prevent cancer and are high in antioxidents which improves metabolism. They also promote dental health, can relieve stress, anxiety and depression, and can even help with eczema! Pretty awesome!
This cake was fun to put together because I've never done an upside down cake before! It cake was really moist and the flavors blended together nicely. This cake is really versatile too; any berry or fruit can be swapped out (blueberries, raspberries, blackberries, apples). This was really yummy to eat in the morning with coffee and in the afternoon with some tea (I definitely had a lot of helpings of this). I hope you enjoy it too (and only 124 calories a slice)!
Serves 16
inspired by Whole Life Nutrition Kitchen
Ingredients:  
2 cups fresh cranberries
4 eggs
1/4 cup + 1 tablespoon coconut oil, melted + divided
1/4 cup + 1 tablespoon honey, divided
1/4 cup + 3 tablespoons arrowroot powder, divided
1/4 cup + 2 tablespoons coconut flour
2 teaspoons baking powder
juice of one orange
zest of one orange
Instructions: 
1. Preheat the oven to 350 degrees.
2. Grease a cake pan (8 or 9 inches) or a 9 X 9 square baking pan with coconut oil.
3. Melt one tablespoon of coconut oil in a pan (or quickly in a bowl in the microwave).
4. In a small bowl, mix together one tablespoon coconut oil, one tablespoon arrowroot powder and one tablespoon of honey together.
5. Pour into the pan and distribute evenly.
6. Add cranberries on top of the wet mixture. Spread evenly. I used a small round pan and in some places had cranberries double stacked!
7. In a separate bowl, mix four eggs, four tablespoons coconut oil (melted), four tablespoons honey, juice of one fresh orange and zest of one fresh orange. Combine thoroughly.
8. In a different bowl, mix together coconut flour, 1/4 cup + 2 tablespoons arrowroot powder, and baking powder.
9. Combine wet and dry ingredients in one bowl and mix well.
10. Pour combined mixture over cranberries, distributing evenly.
11. Bake for 30 minutes (oruntil knife can be poked into it and comes out clean).
12. Perfect with tea or coffee!
Nutritional Information (one slice): Calories: 125  Fiber:  1g  Sugar: 8g
Upside Down Cranberry
Orange Bread
gluten free, paleo