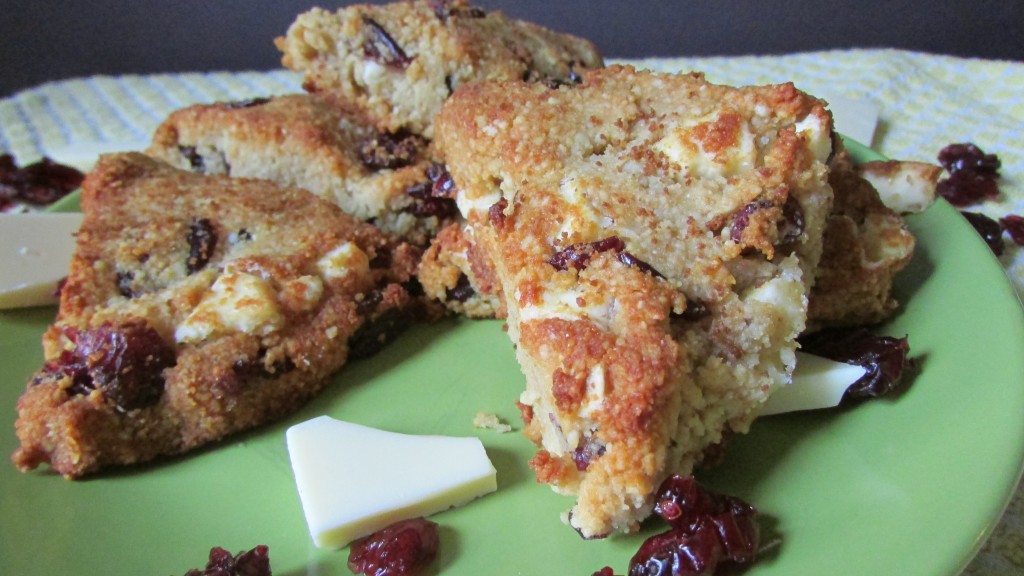 Well, I'm now one week away from my due date! I can't believe it. It seems like yesterday I was telling people that I was pregnant. The hospital bag is packed, I am super nesting, and we are playing the waiting game. Jake is doing a lot of nesting of his own, making a lot of last minute house repairs and everything.
I've definitely been getting lazier with making dinners… I've had quite a few lunch/dinners at the Bridge St. Cafe over on the corner of Elm and Bridge in Manchester. They have the best coffee ever, too. The past few times I've gone, they've had white chocolate raspberry (or cranberry) scones, which are my favorite. Way back in the day, Dunkin Donuts used to make/carry them, and I ate quite a few. Loaded with sugar and lots of other bad stuff, I'm sure (I'm just not going to think about it).
I did start thinking about them, however, when I saw the recipe for dairy free, paleo, soy free, white chocolate chips recipe from Whole New Mom, I was back in the game. So along came this recipe. Even my husband (who always asks me, 'is this healthy?' really loved them), so we have ourselves a winning scone recipe. These didn't last long in our house, and I don't think they'll last long in yours too!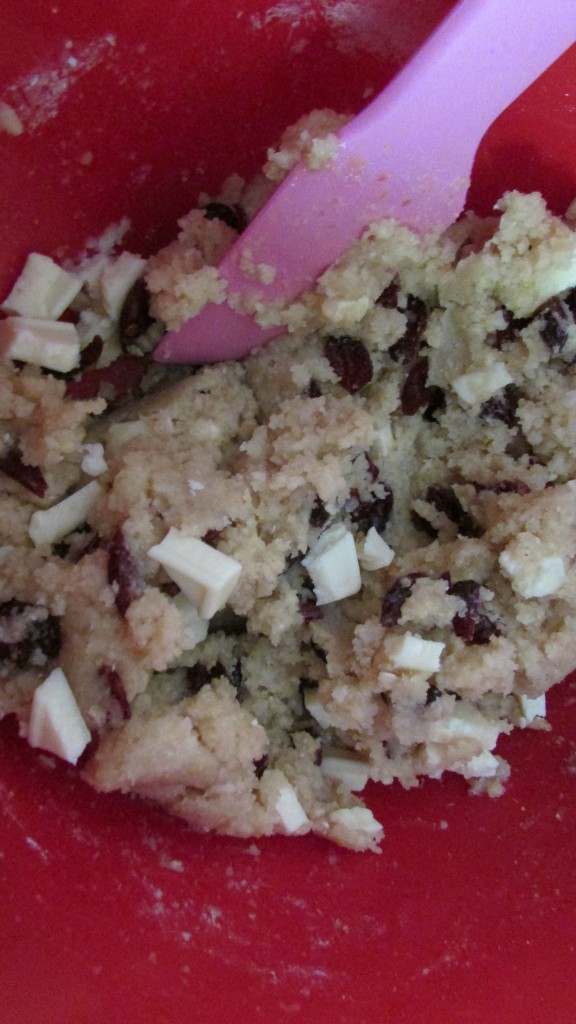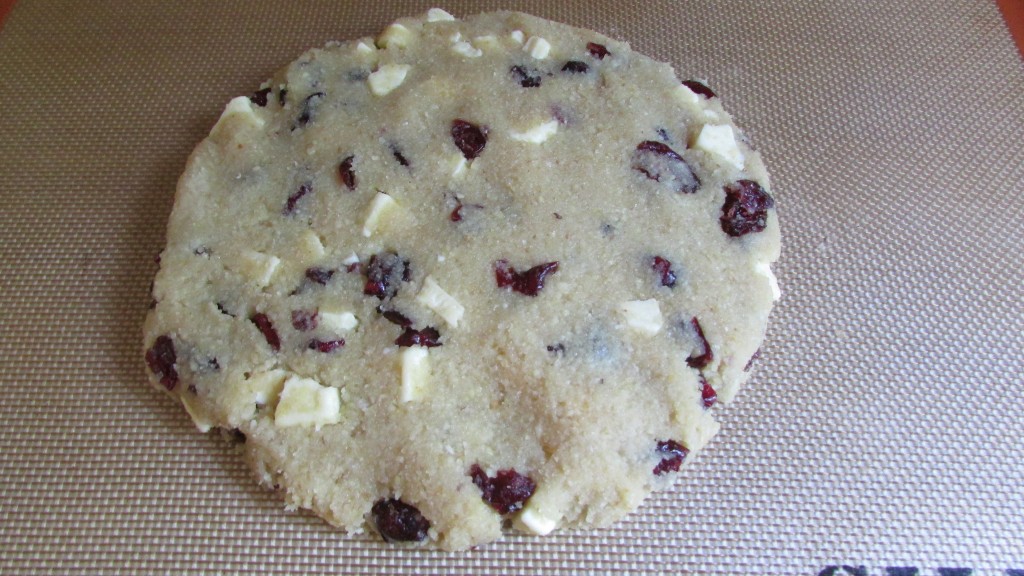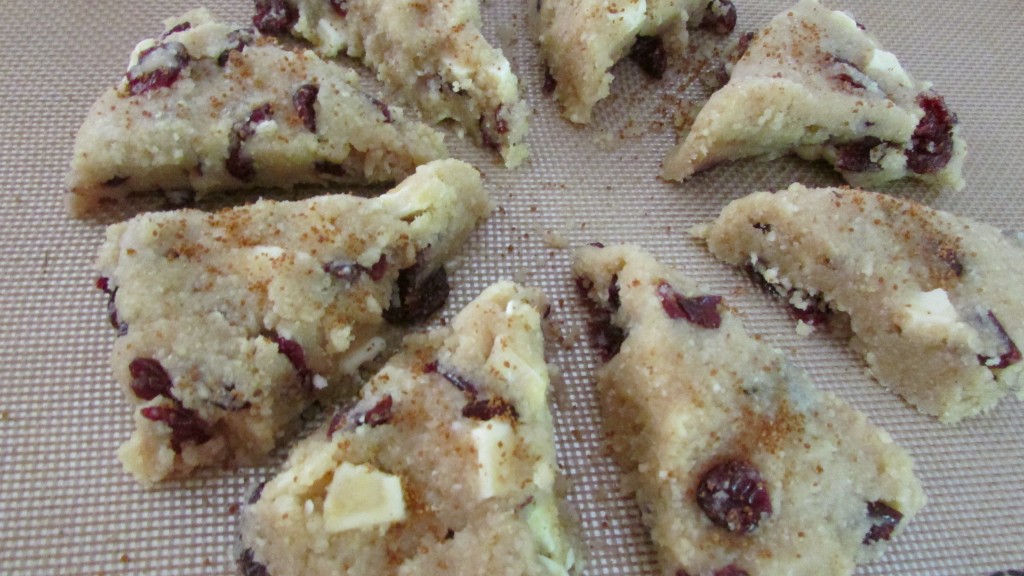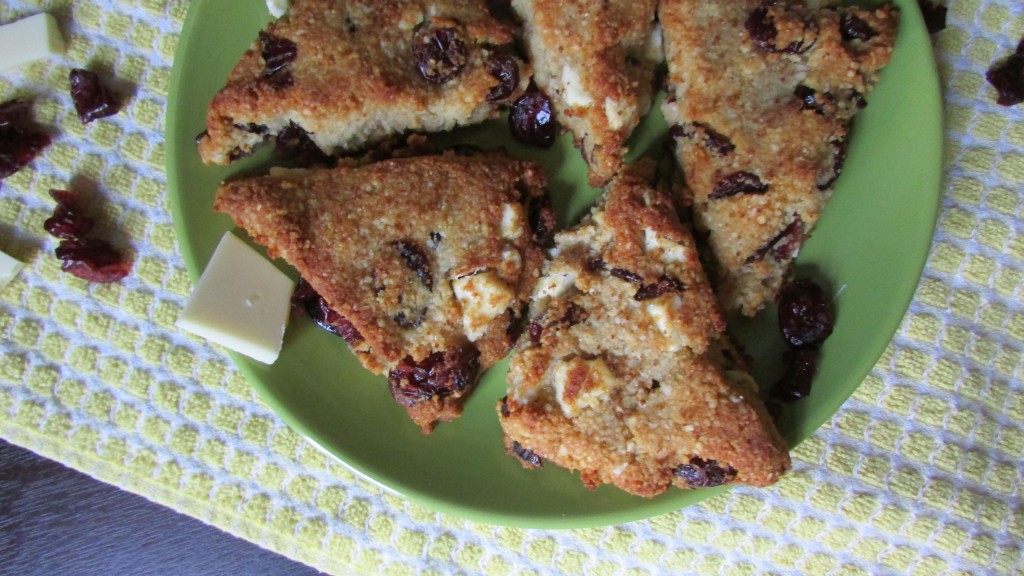 Paleo & Vegan White Chocolate Cranberry Scones

Ingredients
2 cups almond flour
2 tablespoons of potato or arrowroot flour
1 tablespoon flax seed with 3 tablespoons of water OR 1 egg
2 tablespoons almond milk
2 tablespoons honey
1 teaspoon vanilla extract
1 teaspoon baking soda
1/2 cup organic dried cranberries or raspberries
1/2 cup white chocolate chips
Instructions
If making the scones vegan, make flax seed mixture (1 tablespoon flax seed and 3 tablespoons hot water) mix well and set aside
Preheat the oven to 375 degrees
Mix dry ingredients in a bowl except cranberries and white chocolate chips
Mix wet ingredients in a separate bowl and gradually mix in the wet to dry ingredients
Once ingredients are well combined, slowly fold in cranberries and white chocolate chips
Grease cookie sheet with coconut oil or use a silpat (no oil needed)
Press dough into a large cookie form
Using a knife, cut dough into 8 triangles (or 6 if you prefer)
Bake scones for 10-12 minutes or until the edges brown
Devour!
http://veggiestaples.com/paleowhite-chocolate-cranberry-scones/