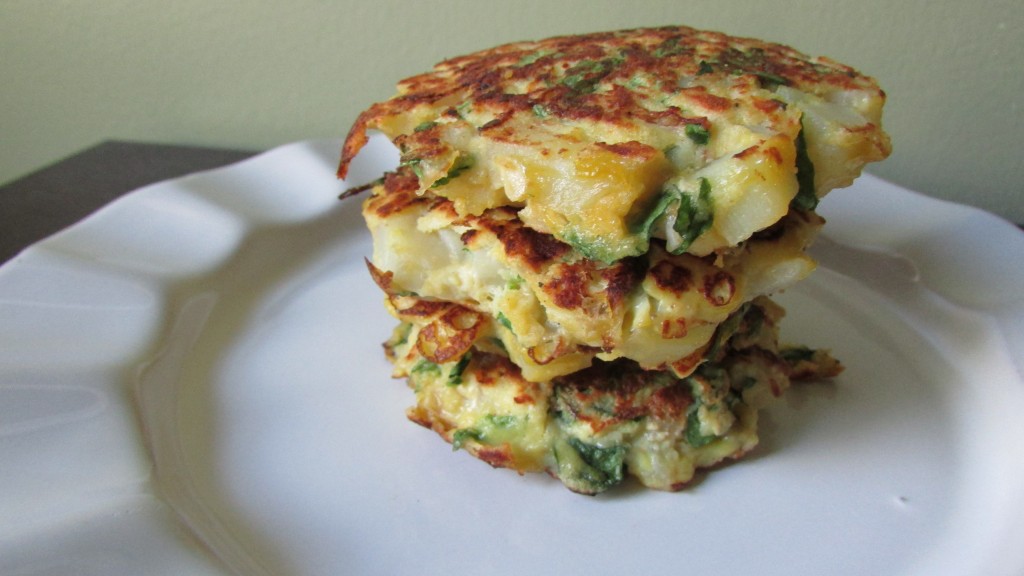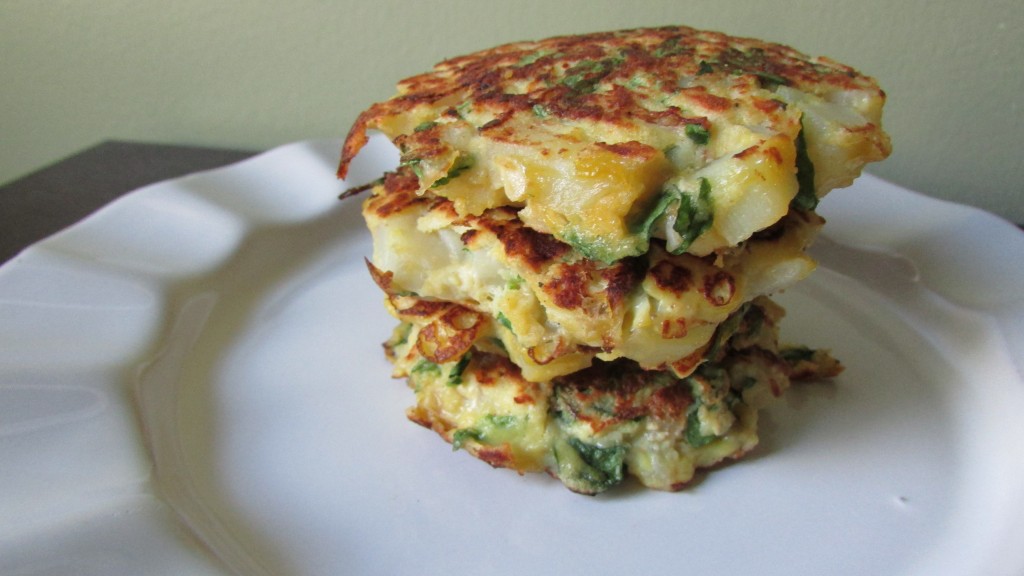 A few weeks ago I stopped by my local grocery store and was hungry (always a mistake, as you know) and found Dr. Praeger's Spinach Pancakes on sale in the health food section (paleo, gluten free and dairy free). I ate them for an afternoon snack all week and then thought to myself 'why not make my own?'… This is pretty much the same thought I've had with veggie burgers for a long time, but I have yet to whip up a batch of those either! (Hopefully once summer comes).
Either way, the ingredient list is on the box and I knew I could easily figure out how to throw some of these together and then be able to stock pile and eat them whenever I wanted! I used regular white potato, but you could easily use sweet potato, add cheese (if you can tolerate it, or even add some nutritional yeast), omit the onion, add carrots or zucchini, etc. There are a ton of possibilities to mixing it up to suit your taste buds! Either way, these spinach potato pancakes are a winner in my book & I know you will love them too! Kid friendly!
Ingredients
1 medium potato, washed, peeled, boiled and chopped
1 medium onion, washed, peeled and chopped
1 cup spinach, washed and chopped
3 tablespoons almond flour
2 eggs
1-2 tablespoons minced garlic
salt and pepper to taste
coconut oil for frying
Instructions
Peel and boil the potato until soft
Remove potato from heat and allow to cool
Wash, peel and chop onion
Wash and chop spinach
Chop potato
In a small bowl, mix all ingredients until well combined.
Heat frying pan on medium heat, adding enough coconut oil to coat pan
Measure out 1/4 cup of mixture for each pancake (mixture should make 6 small pancakes)
Flatten into a small patty (3 should fit on the pan)
Flip patties when slightly brown on one side (3-4 minutes)
Eat warm or cold as lunch, dinner or a on the go snack!
http://veggiestaples.com/spinach-potato-pancakes/