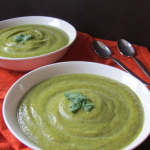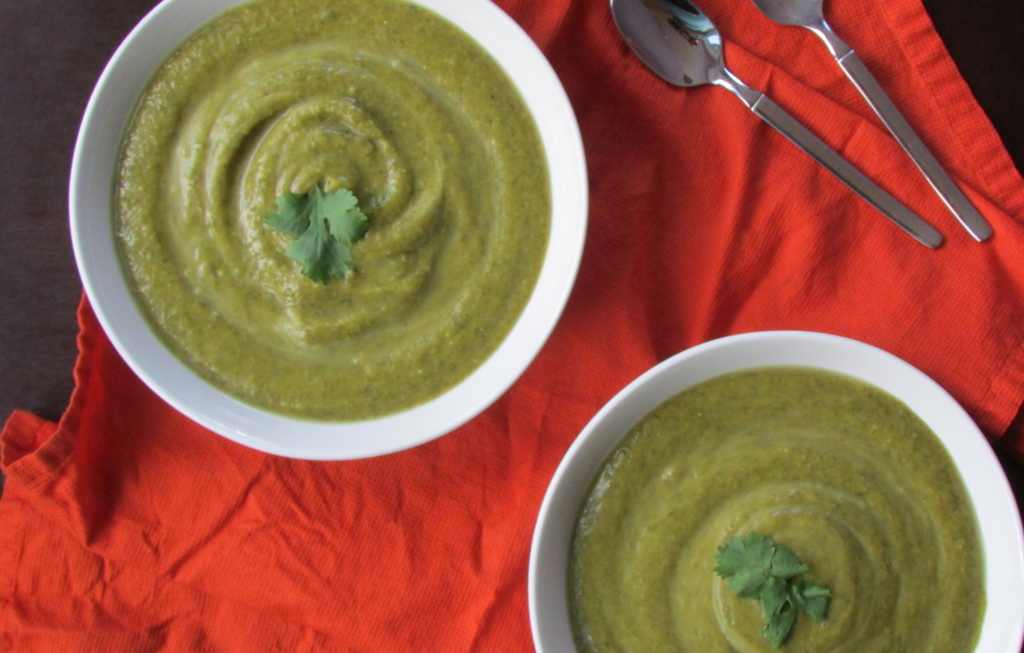 Soup season is definitely upon us! It was 75 degrees on Saturday, and yesterday it was only 47! Talk about temperature change! Soup is on the menu multiple times this week! I made this one last week, and I'm really kind of regretting not making a lot more of this at the same time to freeze for later! A friend gave me an abundance of butternut squash that probably would have cost me a small fortune at the store, I really need to get on that garden thing next summer!! Squash is one of my favorite fall foods, and I love that with any variety you always have those awesome seeds to roast!
This is soup is really awesome because after boiling the squash, you throw everything in a blender and heat it back up in a pot, easy peasy! It has a lot of cilantro, which helps remove heavy metals in the body, and of course all those awesome greens from the kale! And maybe you could talk your kids into eating it by telling them the color is for Halloween? Either way, make a big batch of this, you'll end up regretting it if you don't!!

Butternut Squash Cilantro Soup

Ingredients
1 butternut squash, washed, peeled and chopped
1 bunch of kale (or an entire box of prewashed, boxed kale)
1 whole bunch of cilantro, washed
1 onion, peeled and chopped
1 can of coconut milk
2 tablespoons of minced garlic
2-3 tablespoons curry powder (to taste)
salt & pepper to taste
Instructions
Wash, peel and chop butternut squash
Place squash in large pot and fill pot with enough water to just barely cover the squash, heat on medium/high heat until the squash can be easily pierced with a fork
Once the squash is cooked until it is soft, drain squash and place the squash in a blender
Place all other ingredients in the blender with the squash
Blend soup ingredients until smooth
Add the blended soup back in the pot the squash was cooked in
Heat soup until the desired temperature is reached
Enjoy!
http://veggiestaples.com/butternut-squash-kale-soup/